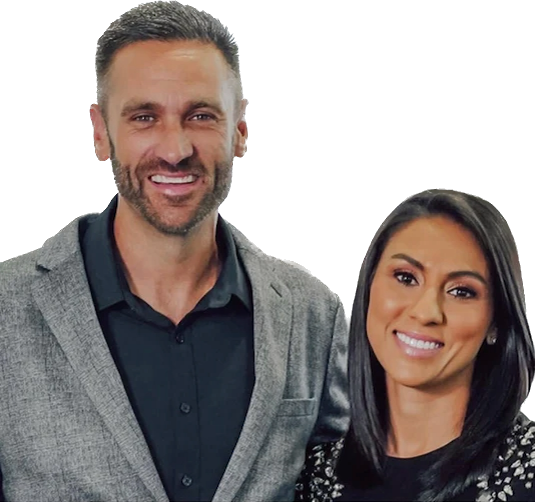 Chad Dittman, Owner & Founder
Chad Dittman founded ZuLu Marketing & Printing in 2016. Before ZuLu, Chad owned and operated multiple arena football teams around the U.S. This afforded him the opportunity to grow his entrepreneurial skillset, and see the demand for custom advertising materials for all types of businesses. 
Along with running ZuLu, he also serves as a Pastor on staff at Church Unlimited in Corpus Christi, TX. It is there that he came to know the Lord, and he now gets to shepherd and connect with other people who are devoted to growing in their relationship with Jesus. 
He has 3 sons, Christopher, Chance, and Asher. 
Hobbies: Playing golf, tennis, and watching the Dallas Cowboys, Houston Astros, and San Antonio Spurs!
chad@zulumap.com
Cameron

Chief Operating Officer

Hey everyone! My name is Cameron and I have been with with ZuLu since July of 2021. I attended Liberty University and graduated with degrees in both Business Marketing and Strategic Communications. I also received my Masters of Christian Leadership from Dallas Theological Seminary in 2021. 

Before working at ZuLu I served at a church in Cleveland, Ohio as the Communications Manager before making my way to Corpus Christi, TX for a pastoring position. I also am the founder of Spark Youth USA; An organization who's mission is to enthusiastically teach the next generation about God and His Word. 

Fun Fact: I know how to play the harmonica and have actually played on stage with Buddy Greene.

Favorite Food: Pizza! Any time, any place!

Favorite Hobbies: I am an avid reader and a big sports fan. I love the Miami Dolphins, Miami Heat, Washington Capitals, and Liverpool!

Email: cameron@zulumap.com

Luke

Director of Quality Control

Hi, I'm Luke. I grew up in a big family in the Philadelphia, PA area. We moved around a lot, so I've always appreciated new people and cultures. After graduating from Regent University in Virginia Beach, I moved to North East Ohio to be closer to my wife Lauren, who was my girlfriend at the time. I have a background in vocational ministry and have been on staff at a few churches. I've been interested in art and design as far back as my memory takes me and have been a graphic designer in some capacity for the last decade. I love using my design experience and organizational strengths as part of the team at Zulu! 

In my free time I enjoy making art, playing music, exercising, watching and playing sports, outdoor stuff like hiking or kayaking, reading, and playing board games with my wife and friends. Lauren and I have been married since November of 2016 and we live with our two cats right outside of Cleveland, Ohio. 


Fun Fact: I've lived in 21 different homes in 28 years in 6 states and 2 countries. 

Favorite Food: Chicken Wings

Favorite Hobby: Drawing

Email: luke@zulumap.com

Chance

Marketing Specialist

Hi! My name is Chance Dittman. I'm 19 years old. I played baseball, basketball, and football while in high school. I love to watch professional sports including the Dallas Cowboys, San Antonio Spurs, and the Houston Astros. I have a Great Dane as my pet.

Fun Fact: I can do a good Connor McGregor impersonation.

Favorite Food: Tacos! I could I would eat tacos all day, every day.

Favorite Hobbies: I like to play video games, spend time with my dog Venus, and workout!

Email: chance@zulumap.com

Joshua

Marketing Specialist

My name is Joshua Butler. For years, I struggled with addiction, depression, and a reckless lifestyle that left me feeling empty and lost. But five years ago, I had an encounter with Jesus, and He's been transforming me from the inside out ever since. It's been an awesome journey of intimacy with Him.

I was born and raised in Las Vegas, NV, and I'm thrilled to work with ZuLu, a team that shares my passion for seeing Jesus glorified through our work. It's an incredible honor to equip businesses with products that help them get exposure.

Fun Fact: I am a part of a rap group called Cloud Accent

Favorite Food: Anything Mediterranean

Favorite Hobbies: Playing keys and singing worship, or writing rap music with my group

Email: joshua@zulumap.com

Aaron

Marketing Specialist

My name is Aaron! I was born and raised in Corpus Christi, TX where ZuLu originated. I have a passion for sales and marketing, and I'm currently enrolled at Texas A&M University Corpus Christi as a studying Marketing. Im very proud to be apart of the ZuLu team and I love having the opportunity to support other businesses through our services! I aspire to give my 100% to what I do and my 100% to God.

Fun Fact: My birthday is on Valentine's Day.

Favorite Food: It has to be orange chicken and white rice!

Favorite Hobby: Going to garage sales with my dad on my weekends and finding steals!

Email: aaron@zulumap.com

Rick

Marketing Specialist

Hello! My name is Rick. I retired from the medical field in 2018 after working as a Neurodiagnostic Technologist for 36 years. During my career I worked in Virginia, North Carolina, Hawaii, and Pennsylvania. I'm glad to work with ZuLu part time and be able to help our client's vision come to life!

Fun Fact: I became a certified scuba diver while in Hawaii and encountered a few sharks.

Favorite Food: What else, seafood!

Favorite Hobbies: Studying history, photography, traveling, and enjoying quality time with my family and collie, Laddie.

Email: rick@zulumap.com

Jared

Project Management Coordinator

My name is Jared Garza and I am 22 years old. I just graduated from Stark College and Seminary with a degreeTheology. I attend and serve at Church Unlimited in Corpus Christi Texas. I am also the founder of Fighting Muscular Dystrophy with Christ; a nonprofit organization whose mission is to reach people for Christ.

Fun Fact: I was born in Worcester, England. 

Favorite Food: Chicken nuggets and french fries.

Favorite Hobbies: Reading, watching movies, building legos, watching the Houston Astros.

Email: jared@zulumap.com

Andrew

Hey guys, my name is Andrew! I was born and raised in Robstown, Texas. I battled Non-Hodgkin's Lymphoma as a 12 year old, which later helped me realize my calling to help people. I interned for Church Unlimited in Corpus Christi, Texas in 2022. I married my best friend Madelyn in February 2023. I am currently pursuing a degree in nursing at Texas A&M University Corpus Christi. 

Fun Fact: I met my wife at our local college ministry

Favorite Food: Street Tacos

Favorite Hobby: Collecting Funko Pops/Comics

Email: Andrew@zulumap.com